Comdel, Inc. Appoints New Marketing Manager
As the need for custom engineered RF Power supplies expands into several new markets, Comdel, Inc. hires marketing manager to expand Comdel's first-in-industry expertise beyond its traditional markets.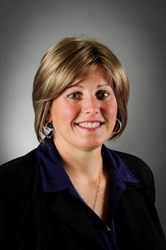 Gloucester, MA (PRWEB) September 10, 2013 - Comdel, Inc., a leader in RF power supplies and DC generators, announced today that Amy Greaves has joined the company to further develop their marketing initiatives to support a growing sales team. Amy Greaves comes to Comdel with 19 years of professional experience since graduating from the S. I Newhouse School of Public Communications at Syracuse University and was most recently employed with Diversified Business Communications where she spent over 7 years as a customer relations manager for the Administrative Professionals Conference and the American Society of Administrative Professionals where Amy was instrumental in the recruitment of new members and attendees while supporting and developing marketing campaigns.
Amy joins Comdel as Marketing Manager to continue Comdel's global reach of providing the most reliable RF and DC power supplies commercially available. Amy comments, "I am excited to be a part of Comdel's new marketing plans and look forward to working with the team to reinforce our position as a thought leader in the industry."
Scott Johnson, Senior Vice President said, "We are very fortunate to have Amy join our group. She brings a wealth of knowledge and experience that will be essential in bringing our message to engineers who need our advanced power supply expertise."
About Comdel, Inc.
Since 1966, Comdel, Inc. headquartered in Gloucester, Massachusetts, designs, develops and manufactures innovative, high quality RF and DC power systems for leading companies in semiconductor, metal heat treating, dielectric heating, lasers, induction heating and thin film markets. Its RF power systems offer the market's best power and frequency range, and are backed by an industry-leading research and development design department with over 30 years of engineering expertise and over 1,400 designs with frequencies from 20 KHz - 100 MHz.