Comdel Inc. Announces New Products and Features to the CB RF Power Supply Family
As the demand for quality RF Power supplies increase, Comdel, Inc. responds with new RF power supply products designed for volume manufacturing while retaining customization options, a broad range of frequencies and a smaller, lighter design.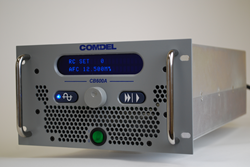 Gloucester, MA (PRWEB) July 01, 2014
Comdel, Inc., a leader in RF power supplies and DC generators, has incorporated 20 years of expertise with the CX Series into the CB line of RF generators While Comdel's existing CX series of RF generators is known as the standard of reliability for the industry, the new CB600A products take innovation to the next level with design and performance.
The CB600A products still include the same proven power amplifier section as the CX series, but are designed for volume manufacturing and features a smaller, lighter packaging design. No other solid state amplifier has performed more reliably in the harsh environment of the semiconductor plasma processing.
RF generators from the CB product family are designed for high frequency applications, available in power ranges from 50 to 5,000 Watts with standard fixed frequencies from 13.56 MHz to 60 MHz The solid-state design provides precise and repeatable power control, ultra-stable output and low cost of ownership. The CB series is designed to meet the performance demand in RF-driven plasma systems for semiconductor processing. Applications include etch, Reactive Ion Etch (RIE), parallel plate, Inductively Coupled Plasma (ICP), RF sputtering, Chemical Vapor Deposition (CVD) and Physical Vapor Deposition (PVD), as well as induction and dielectric heating processes in industrial systems, and solar photovoltaic applications.
About Comdel, Inc.
Since 1966, Comdel, Inc. headquartered in Gloucester, Massachusetts, designs, develops and manufactures innovative, high quality RF and DC power systems for leading companies in semiconductor, metal heat treating, dielectric heating, lasers, induction heating and thin film markets. Its RF power systems offer the market's best power and frequency range, and are backed by an industry-leading research and development design department with over 30 years of engineering expertise and over 1,400 designs with frequencies from 20 KHz - 100 MHz.